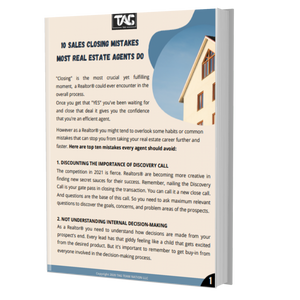 "Closing" is the most crucial yet fulfilling moment a Realtor® could ever encounter in the overall process.

Once you get that "YES" you've been waiting for and close that deal, it gives you the confidence that you're an efficient agent.

However, as a Realtor®, you might tend to overlook some habits or common mistakes that can stop you from taking your real estate career further and faster. That's why The TAG TEAM prepared for you the top ten mistakes every agent should avoid.
Get it now!