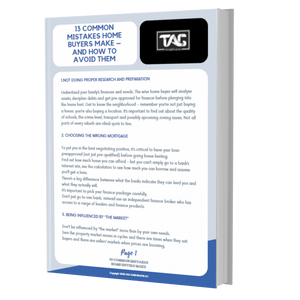 1.Not doing proper research and preparation
2. Choosing the wrong mortgage
3. Being influenced by "The Market"
4. Going beyond your budget
5. Falling in love
6. It's not all about price
7. Not having the right protection clauses inserted in the contract of sale.
8. Underestimating the full costs of buying a home
9. The "Fed Up" Purchase
10. Not organising a professional building inspection
11. Misunderstanding the real estate agent's role
12. Going Solo
 13. Thinking this list is exhaustive
Download now! This will help you avoid a few common mistakes as you contemplate buying your next home.