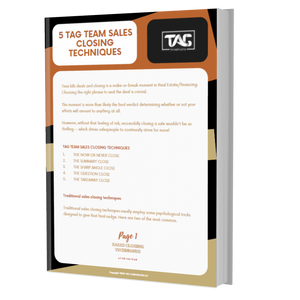 Time kills deals and closing is a make-or-break moment in Real Estate/financing.
Choosing the right phrase to seal the deal is crucial. This moment is more than likely the final verdict determining whether or not your efforts will amount to anything at all.
However, without that feeling of risk, successfully closing a sale wouldn't be so thrilling -- which drives salespeople to continually strive for more!
TAG TEAM Sales Closing Techniques

1. The Now or Never Close
2. The Summary Close
3. The Sharp Angle Close
4. The Question Close
5. The Takeaway Close
Download our helpful techniques and discover the success behind every deal we closed!