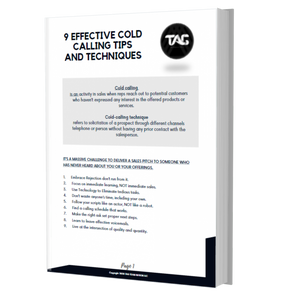 It's a massive challenge to deliver a sales pitch to someone who has never heard about you or your offerings. With all this negativity, it's hard to see how cold calling is worth even considering. And that's exactly why cold calling can be so effective for you.
If you master the art and science of cold calling, you can become the highest-paid sales rep at your company. Like all other forms of prospecting, bad cold callers are easy to spot.
Here's the foundation you need in order to use cold calling to close more business, help more people, and write your own paycheck:

1. Embrace Rejection don't run from it.
2. Focus on immediate learning, NOT immediate sales.
3. Use Technology to Eliminate tedious tasks.
4. Don't waste anyone's time, including your own.
5. Follow your scripts like an actor, NOT like a robot.
6. Find a calling schedule that works.
7. Make the right ask set proper next steps.
8. Learn to leave effective voicemails.
9. Live at the intersection of quality and quantity.
Download our 8 pages- cold calling guide to become the highest-paid sales rep at your company!