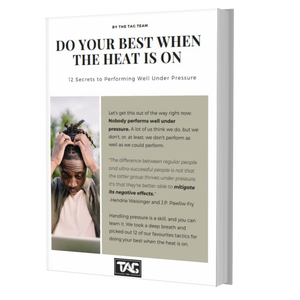 Nobody performs well under pressure. A lot of us think we do, but we don't, or, at least, we don't perform as well as we could perform.
Handling pressure is a skill, and you can learn it. We took a deep breath and picked out 12 of our favourite tactics for doing your best when the heat is on.
THINK OF HIGH-PRESSURE MOMENTS AS A (FUN) CHALLENGE, NOT A LIFEOR-DEATH THREAT
REMIND YOURSELF THAT THIS IS JUST ONE OF MANY OPPORTUNITIES. IS THIS HIGH-PRESSURE SITUATION A GOOD OPPORTUNITY? SURE. IS IT THE ONLY OPPORTUNITY YOU WILL EVER HAVE FOR THE REST OF YOUR LIFE? PROBABLY NOT
FOCUS ON THE TASK, NOT THE OUTCOME
        ........
Download now to know more about the secrets to performing well under pressure.