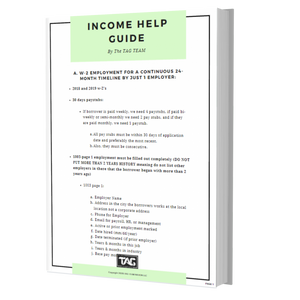 Getting ready for our loan?
Here are the important requirements you need to prepare for your income!
W-2 EMPLOYMENT FOR A CONTINUOUS 24-MONTH TIMELINE BY JUST 1 EMPLOYER:

W-2 EMPLOYMENT full 24-month timeline 2+ employers

Self‐employed borrower/Sch C/1099 income/borrower working for the family: (Filling deadline IRS =07/15/2020)

If you are trying to use 2 jobs for a single borrower:

Pension income

Retirement income (i.e. IRA, 401K etc.)

Social Security award income
Download now to know more about the details of these requirements!