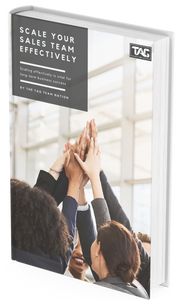 "Scaling effectively" is vital for long-term business success. Consider, for instance, how half of all startups fail within the first five years.

While many reasons a business fails, one major one is the inability to sustain successful processes as your organization proliferates.

And, as you begin to scale, your sales team will be one of the first teams you'll want to ensure are prepped for the increase in demand.

Fortunately, you can implement a few key strategies as a sales leader to ensure your sales team — and sales process — doesn't experience severe growing pains as your business scales. Download this Ebook now!