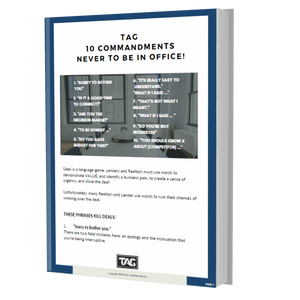 Sales is a language game. Lenders and Realtors must use words to demonstrate VALUE, and identify a business pain, to create a sense of urgency, and close the deal! 
These Phrases Kill Deals:
 1. "Sorry to bother you."
2. "Is it a good time to connect?"
3. "Are you the decision-maker?"
4. "To be honest …"
5. "Do you have budget for this?"
6. "It's really easy to understand."
7. "That's not what I meant."
8. "What if I said … "
9. "So you're not interested?
10. "You should know X about [competitor] ..."
Unfortunately, many Realtors and Lender use these words to ruin their chances of winning over the deal. Download now and learn why these are deal killers!